Top 5 Ebike Car Hitch Racks - Which Rack is Best For You and Your Electric Bike?
Posted by Sykl Power Bikes on 13th Aug 2021
Whether you are looking for an e-bike, or have already purchased one, the thought of "how am I going to transport this?" has most likely crossed your mind. We feel as an e-bike manufacturer that we should help provide some options for you so that once you have your new SYKL e-bike, you can get right to riding! After doing some research and testing, we've selected our top 5 e-bike hitch racks. We picked these racks based on a few major features that we felt would be most important to you: weight, bike capacity, ease of use, and security.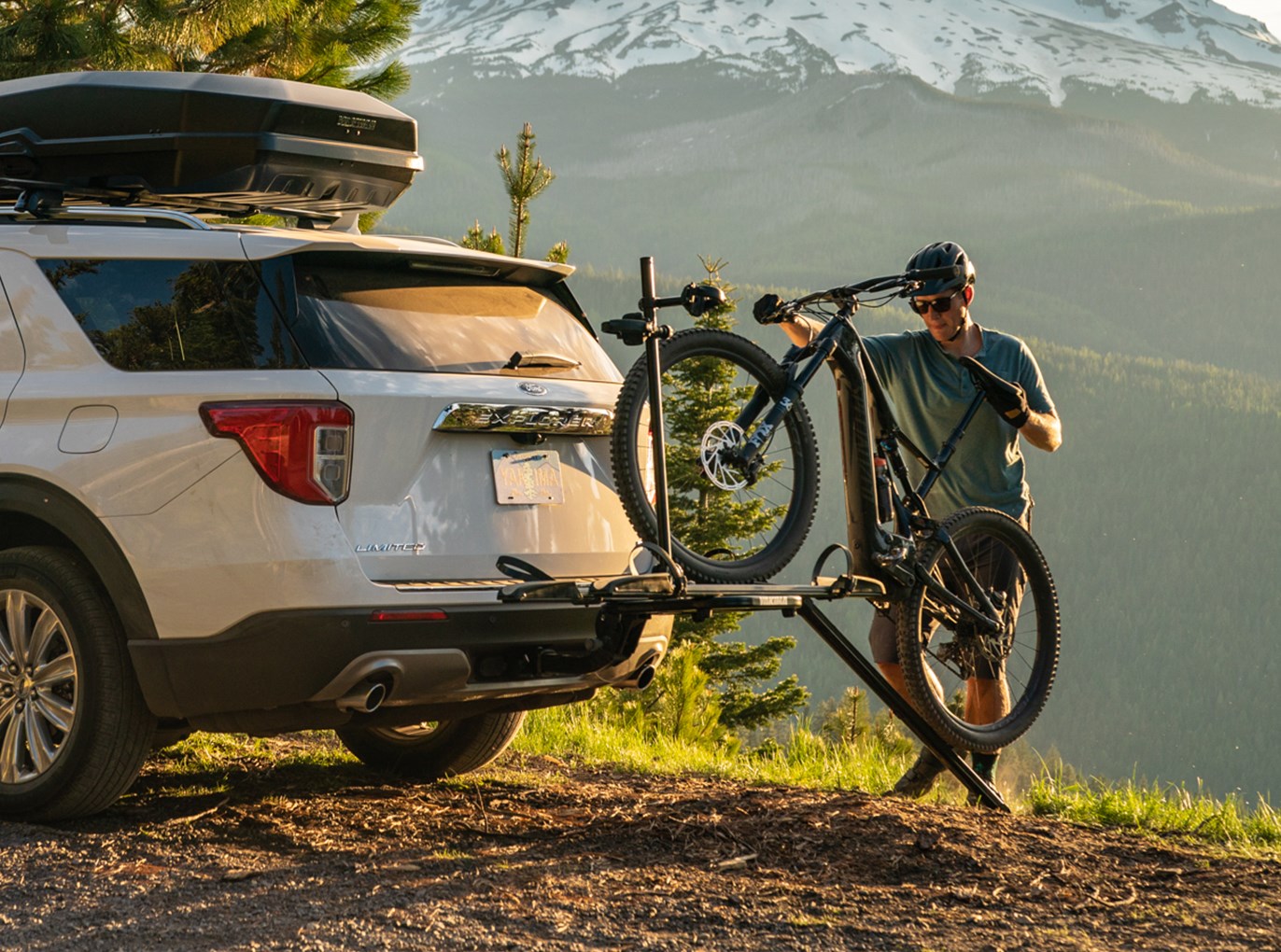 1.) Yakima OnRamp

• Capacity: 2 bikes (up to 66 lb. each)
• Weight: 43 lb.
• Trunk Access: Yes
• Includes Locks: Yes
• SYKL Compatibility: Yakima OnRamp works with all SYKL e-bikes
The Yakima OnRamp e-bike car rack makes loading your e-bike hassle-free by providing a built-in ramp. It is a simple, efficient design with secure performance that eases the challenge of carrying heavier bikes. This rack features adjustable trays to reduce bike to bike interference, and a conforming frame clamp to carry a wide variety of bike styles. Our favorite part about this rack is it can carry any Sykl e-bike from our Metro Series with 2.3" wide tires to our Xplorer Series with 4" wide tires.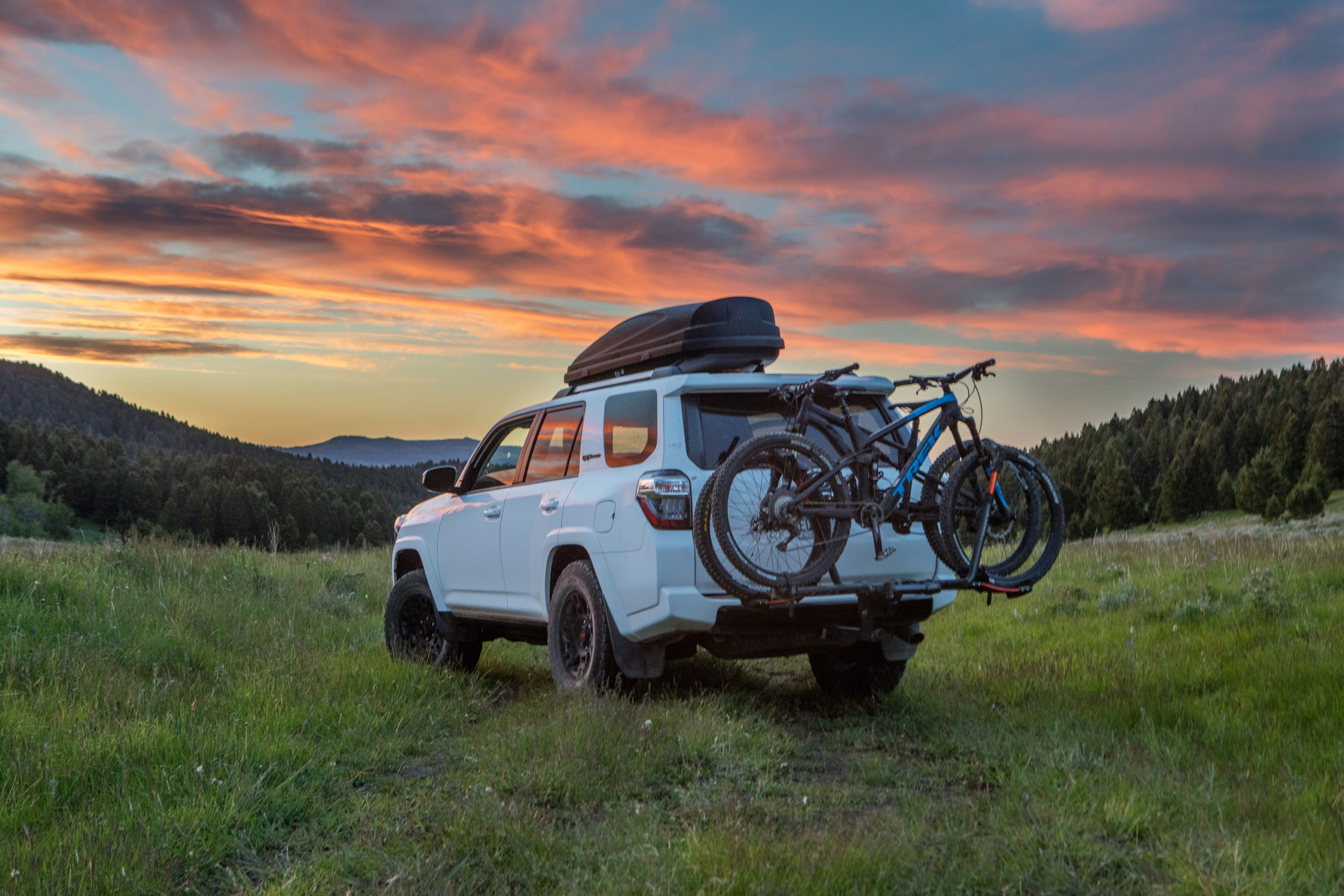 2.) Kuat NV 2.0
Capacity: 2 bikes (up to 60 lb. each)

Weight: 52 lb.
Trunk Access: Yes, via Tilt
Locks: Yes
SYKL Compatibility: Kuat NV 2.0 works with all SYKL e-bikes

Kuat is known as a premium electric bike rack manufacturer that doesn't cut corners. Their premium price is reflected in thoughtful features which can be felt in every use. In addition, the rack has a very modern aesthetic appearance when folded - complementing your vehicle.
With the NV 2.0, Kuat defined e-bike car transport as a primary target use case. The NV 2.0 is packed with e-bike-friendly features including: adjustable front tire cradle system, fully integrated cable locks and hitch lock included, tilt with optional foot assist (easy cargo access), front tire ratchet with intuitive release, and rear tire straps features co-molded strap to protect wheels and accommodate longer bikes. The only downfall we found with this rack is it is NOT RV compatible.
Since the frame is solid steel, you'll notice more weight when attaching or removing the rack from your hitch, but this does increase the feeling of strength and security on the interstate or bumpy road surfaces. The good news is that leaving the bike on your hitch folded tight to the rear of the vehicle is attractive and secure - remaining connected no problem in a normal garage. Many fall in love with riding their SYKL e-bike and use them on very frequent outings, so this shortcut is welcomed. On our Subaru Outback, the rear-facing radar safety features worked with the rack and bikes loaded, but the rear view camera was partially obscured (as with all bike racks.)

This rack is a premium accessory, so it's good to know the hitch-based lock keeps it from "walking away." Kuat's proprietary backed finish and hardware holds up in all weather. We do suggest a quick hand check of the hitch clamp after each ride just to keep it quiet - especially after long drives or bumpy roads. Kuat makes this easy by putting the clamp dial in easy reach.

Once the clamp is tightened, it is as if it were part of your vehicle - silent - a Kuat hallmark not every car hitch rack can match. For a bit of extra ease, go ahead and opt for the optional ramp so everyone can get the bikes on and off.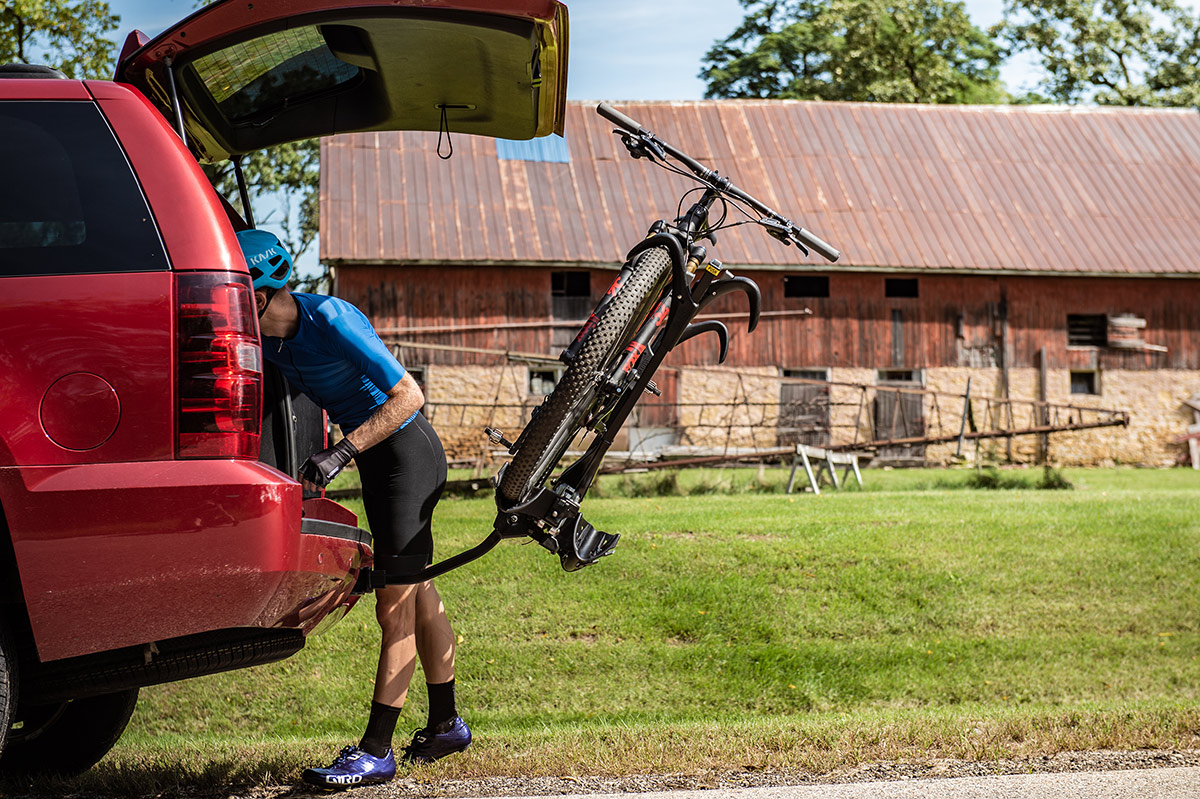 3.) Saris Superclamp EX

• Capacity: 2 bikes (up to 60 lb. each)
• Weight: 27 lb.
• Trunk Access: Yes (single person can tilt rack with bikes loaded and access trunk)
• Includes Locks: Yes
• SYKL Compatibility: Saris works with all SYKL e-bikes
The Saris Superclamp is compact, has a low center of gravity which makes it easy to lift on and off, and features a clamping system that clamps the top bar of the bike rather than a wheel. Similar to other bike racks, you can access your cargo area by tilting the rack down and there is no need to unload bikes. The Superclamp is great for any Sykl bike as it can fit tires up to 4" (if you go over 4" there is an add on you can purchase). Lastly, we liked that the Superclamp has a 2 bike or 4 bike option depending on your needs.
4.) Hollywood Racks Sport Rider SE

• Capacity: 2 bikes (up to 80 lb. each)
• Weight: 50 lb.
• Trunk Access: Yes
• Includes Locks: Yes
• SYKL Compatibility: Hollywood Rack Sport works with all SYKL e-bikes
Out of all the racks on our list, this one is the best price-point for the features. The Hollywood Rack can hold two bikes up to 80 lb. EACH. You can rest assured that this rack will perform well and safely carry your e-bikes from point A to point B. This rack will fold up when not in use and can easily tilt down with bikes loaded to reach your cargo space. Included is a keyed locking hitch pin, security cable and locking frame hooks. Only thing to keep in mind on this rack is you need a 2" hitch (at least that's recommended) since the pay load of the bikes is much higher.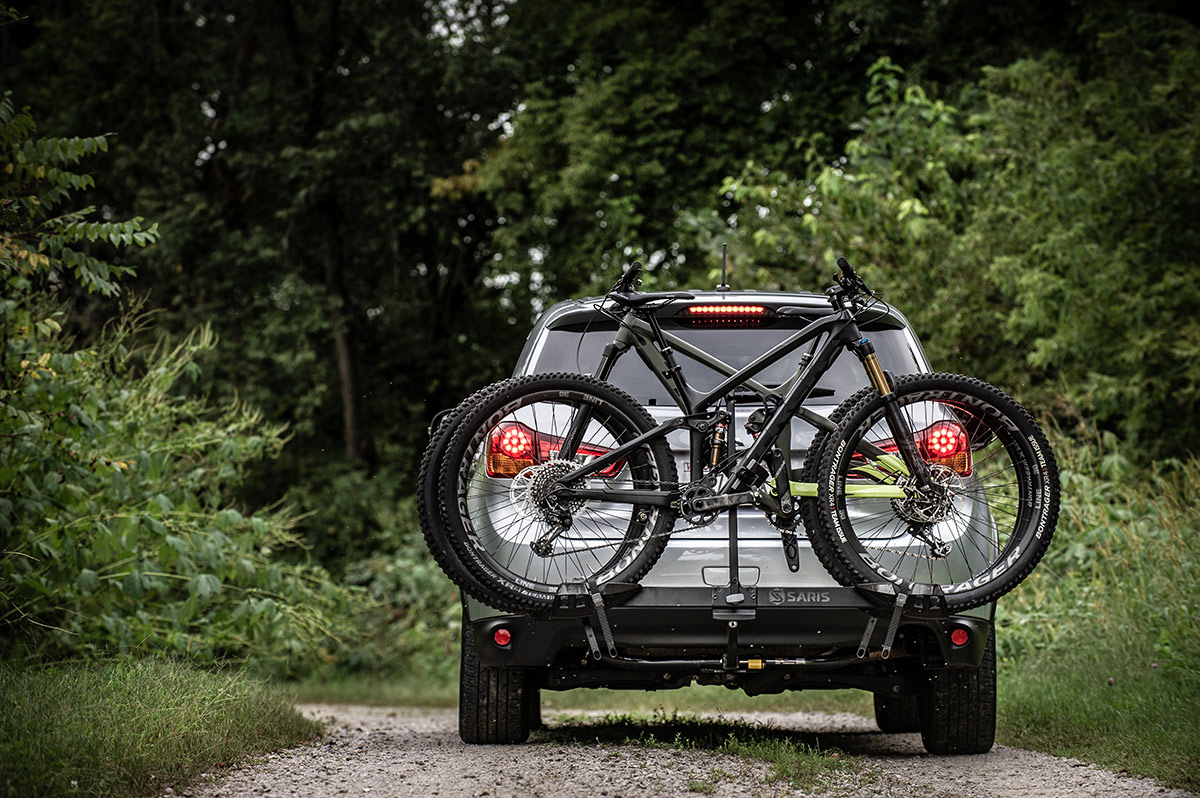 5.) Saris Freedom EX
• Capacity: 2-bike (up to 60 lb. each) or 4-bike model (up to 60 lb. each for inner bikes and 35 lb. for outer bikes)
• Weight: 35 lb. (2-bike) & 63 lb. (4-bike)
• Trunk Access: Yes (might need two sets of hands to help tilt rack when bikes are loaded)
• Includes Locks: Yes
• SYKL Compatibility: Saris Freedom works with all SYKL e-bikes
Another solid choice from Saris is their Freedom EX 2-bike rack which is lightweight at 27 lb. but can hold hefty bikes. This rack adjusts to fit bikes of all sizes, up to 60 lb. each. Features soft rubber cradles to secure your bike frame without scratching and the front-mounted push lever allows you to tilt the rack for cargo access without needing two sets of hands. If you are looking for a more economical choice this is a great go to.

In Conclusion:
As you may have realized, there are a lot of options out there when it comes to e-bike car bike racks! It can be helpful to write down the key features you need in a rack before doing research so you can easily check them off as you find different options. Most importantly, ensure the rack will hold your bike's weight, can fit the width of your tires, has cargo access (if that is important to you), and fits the size of your hitch. Happy shopping, e-bike lovers!